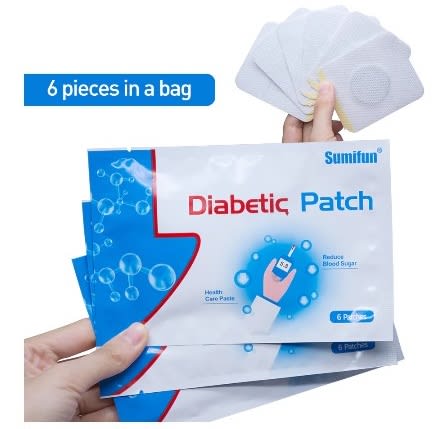 Package: 6 pieces in one bag
Noted:
After using diabetic patch, if you are taking other chemical medicine, please do not stop it please measure blood sugar every day and record it. 80% patients, after using 2 -3 weeks later, blood sugar will be reduced, then reduce chemical medicine slowly, step by step. Finally, can stop other medicine finally.
Ingredients:
Extracted from Rehmanniae, Rhizoma anemarrhenae,Trichosanthin, arrowroot, astragalus, Scrophulariaceae, berberine, yam, borneol
Herbal treatment for diabetes will focus on regulating the circulation of Blood and Qi and balancing the organ systems to improve pancreatic function and address internal heat and the depletion of fluids.
Usage:
1.External use only
2.Wash navel area with warm water,open the pouch and take patch out, stick it on the navel ,
3.One patch can be used for 3-4 days. Then remove it and clean skin.
4.5 pieces as a course of treatment. 2-3 treatments (10-15 patches ) are suggested to achieve best result.
Specification: 2g/bag
Contra-Indication: skin damaged and allergy, children, pregnant and nursing women.
Storage: Store in a cool and dry place.
Expiration: 2 years